TOURS are the common ground.
We see guided trips at Lake Mendocino as a nice
outing with no commitment for you, very educational for us.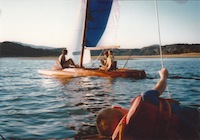 Maybe we shouldn't admit to being in love with the lake,
a modest reservoir. But it has a 20 mile shoreline when full,
all public and all interesting, deep coves and dramatic points,
shady trails and enough wind.
It's good all year long, with cool weather more than
made up for by water, wildlife, and silence.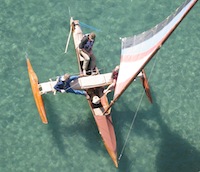 Shoreline tours
A canoe trimaran asks, "If the most interesting water is
near wild land, as paddlers think, then why not a sailboat that can do that, too,
regardless of shallow water and weird wind shifts?"
There is path between shore and sea and sky, that goes
for miles along this triple interface. It is little visited, and offers something
new as you turn each corner (and that's a lot of corners).
A big striper hunting in shallow water becomes the hunted (he thinks) by one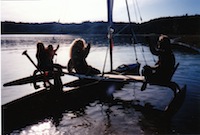 of your floats, explosion! You dare a little downwind cove,
the wind trying to plaster you against the branches. Or downwind up-river, the wind behind
versus the current (and then rapids) ahead.
A swift ride into the canyon but how do you get out of a
narrow place with wind on the nose? By paddle sailing,
which means playing the eddies of wind like a kayaker plays those of a stream.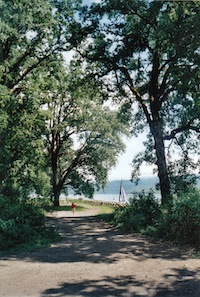 Any group of people sailing
small boats will include some who would prefer getting out
and walking part of the time,
especially a forest path winding between beaches. The same with learning to sail,
some in a group will be allergic to it.
So let's plan a trip where half your party learns enough in
easy-to-learn boats in the most favorable situation: inshore.
Enough to give the rest the choice of boating or walking. Your party can reunite frequently to talk it over,
on a different beach.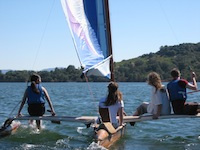 The boat does this landing/launching thing well, almost anywhere.
Also the swimming thing; kids will always be diving off the crossarm and scrambling back up it, over a submerged float.
Or just dragging their feet in the water as we sail, slow but rather nice.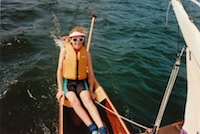 Your party is maybe going to wonder about riding in a sailboat
that you are captain-ing, after only five minutes of how-to.
The answer is reefing. The boats will always be tamed, all the
way down to paddle-only status if necessary.
We're talking a fleet of up to four boats with a guide or two.
Your party may be as large as ten, children and old people especially welcome.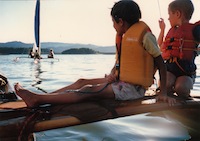 Or a minimum of a boat, a guide, and you.
We provide lifejackets, towels,
and minimum wind proof clothing. You will not get (very) wet, you can leave your shoes on,
and we'll try to interfere in your arguments only in the most sensitive way.
We see our part in this as making the world a better place, so there is no charge, but tipping might be OK.
Our goal at this point is to get experience and spread the word, not make a living.
---
Three Points Races
combining foot travel ashore with boating alongshore
The name is partly in honor of the great British and Australian sea-island races called Three Peaks,
where teams of four in fast sailboats put 2 runners ashore on mountainous islands,
to run marathon distance to the top and return to help
human-power the boats thru calms. Three islands in 4 non-stop days.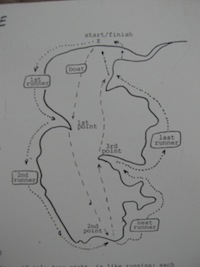 Our afternoon-sized version is also named for the prominent points of land that make it easy to match the speed of the walker-runners to that of the boats, according to the day's wind. Last it is named for the three activities: sailing, running, and paddling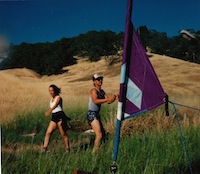 the canoe-like trimarans. Runners and fast walkers would mostly be fitful if they had to wait for wind.
Lake Mendocino has a great trail all the way around that winds and climbs and dips and rolls on soft-packed dirt and duff. There are two dozen little coves, wooden bridges, lots of shade, quite wild-feeling for a place for so near to town. But with so many hills it is too far around for most people.
They should go as a team and relay race around.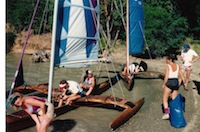 Usually there are seven legs to the race, meaning seven starts from a beach, and nice places to stop and refuel and talk to other boat crews. Since both foot traveler and boat are scored against other teams, there are 14 possible first place finishes, hopefully enough for everyone.
Paddling a single-blade is like running, the paddle as light as running shoes,
power coming from the core. Each stroke and stride is
new chance for perfection.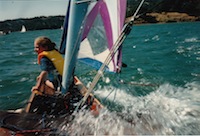 Sailing is a proper humbling, as even the
best get it perfectly only 80% of the time.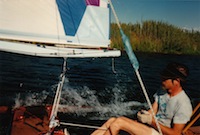 We are (almost) ready to put four (sort of) identical boats on the water at north shore Lake M anytime you and 3 to 8 friends feel challenged, any month, any hour. We have lifejackets for everyone. No charge for organizing the boats and race, but if you find yourself wanting to support the growth of this kind of thing, who's to stop you?
---